I have been absolutely horrible with keeping up with this blog...and this is only because I haven't been knitting. I know...I'm horrible. I think I just needed to get re-motivated after Christmas. It took me a good while to get re-motivated...especially after I had a loss in my knitting family...my sock.
In my previous post, I finished my first sock...singular...sock. It was a dorm sock made for Brad using the cozy Mission Falls superwash. I took it with me on my business trip to Oriskany Falls to knit on the other during the 5 hour drive up. I got quite a bit done on the other sock. Well - on the way back I dropped my credit card IN the door (long story) and had to take the rental car to a dealership so they could remove the door. Before I went in, I stashed the sock in the glove compartment so no one would laugh at my one big purple sock...well...hours later when I dropped the car off, you know the story...I forgot to take the sock out and now Enterprise has my sock captive. I haven't bothered calling and chalked it up to a sacrafice to the knitting gods...and I can use the other two balls of yarn for something else...maybe even a scarf for me!!
So I started working on one of the two blankets for my cousin Stephanie that is expecting twin boys in February. I picked up some yarn in Nashua and some Ann Norling basic blanket patterns. I have been knitting on this blanket on and off for a while, but got a majority of it done on my current trip to Ireland. It has travelled all over Ireland with me this week and will be in England on Tuesday, where I hope to finish it! So, I'm thinking of sewing a small tag on it that says, "Made in the USA, Ireland, England and everywhere in between."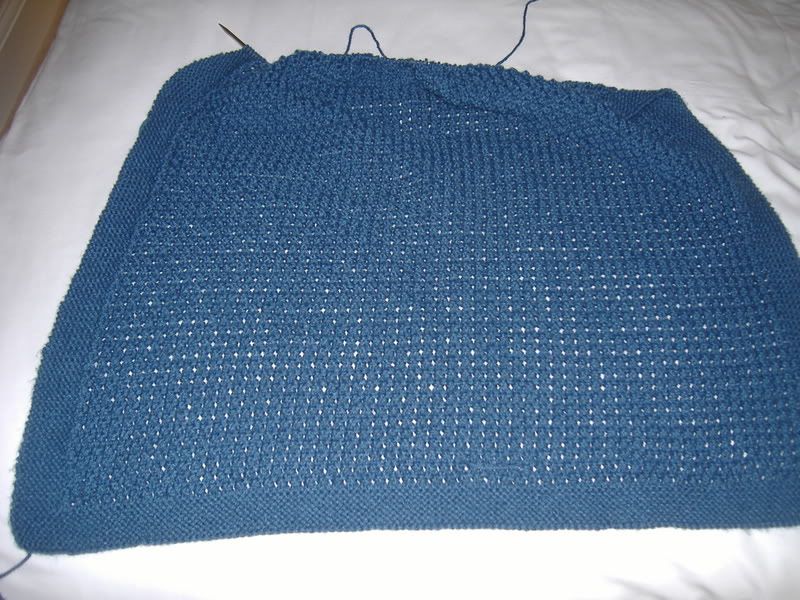 I also finally picked a sock pattern for my beautiful sock yarn I picked up in Tennessee over Christmas. I chose a simple baby cable ribbed pattern and have only started it. I hope to have at least one done by the time I make it back to MA on Friday afternoon. I will make sure I keep eveyone posted on the progress of these two projects over the next week.
I believe it's the Yarn Harlot that takes her knitted socks in progress with her on her travels and takes pictures of her socks next to a landmark to show the progression of her sock...that is a great idea, but I think I might be too lazy to actually do that!!
I will be traveling a lot more in the next few months and hope to get much more knitting done and many more posts up! I haven't been keeping current with mine or others for that matter!!!
If you would like to read my blog about my travels in general to Ireland and England, check out
http://blog.myspace.com/jwpark123
This is my first trip to Ireland and there are many new "discoveries" since I've been on the road!
Addition to a Knitter's Chrismtas:
As I was reading my previous few blogs, I completely forgot to post one of my favorite gifts that I received over Christmas. Carrie actually made me needle holders for my DPN and I absolutely adored it! I'll have to wait to get home to take a picture of it, but I absoltuely loved it!