He went from a zero to a hero in a matter of 4 hours! So last Thursday was my four year anniversary...Needless to say - I'm not the one in the relationship that dwells a whole lot on dates...and actually forgot about the anniversary thing until the day before!! I forgot about it so much that I scheduled a flight home to visit my mom...on my anniversary!
So, while I was at work, getting things prepared to leave for my flight later on that day - I get a phone call from the florist telling me I have a delivery at the front office and to come an pick it up. I went to the front, shaking my head, b/c Brad really knew he didn't have send me flowers...and to my surprise, I got a small basket of FAKE, silk, ugly flowers...They're really not as big as they seem in the photo.
I was so embarrassed that I took the card off and stuck the thing in my desk b/c I didn't want anyone asking me what it was! I know - I'm an ass, but come on - you would have done the same. I kindly sent Brad and email to tell him, it was a really sweet thought and he really didn't have to...I mean...really didn't have to. No reply from him.
Then about an hour later, I got another phone call from the same florist with the same request - come to the front and pick up a delivery. Shaking my head - I thought, "Jen, you're an ass. You made your husband feel bad from that damn email." When I saw the flowers, they were gorgeous. Nothing spectacular, but that's how we roll - we're common folks. I approved and instantly sent him another email telling him how I loved the flowers and he really didn't have to. No reply.
Then another hour went by and I got another call, same florist, same message - pick up your delivery at the front office. I walked up smiling, thinking I might have the most wonderful husband in the world and saw another gorgeous flower arrangement. This time, bigger than the last and with Asiatic Lillies - we had those in our wedding!
This time, before the florsit left, he asked, "When's your lunch hour, because I get off at 1:00 and you have one more coming." Big Smiles....all teeth....no eyes....all cheeks.
At 1:00, I received my last boquet and a note attached that said something to the effect of, "Just like the floral selections today, each year that goes by gets better and better."
Four years of marriage and 3 and 1/2 good boquets...the first one was just a dudd and Brad knew how I would react to the first delivery! Exactly like I did.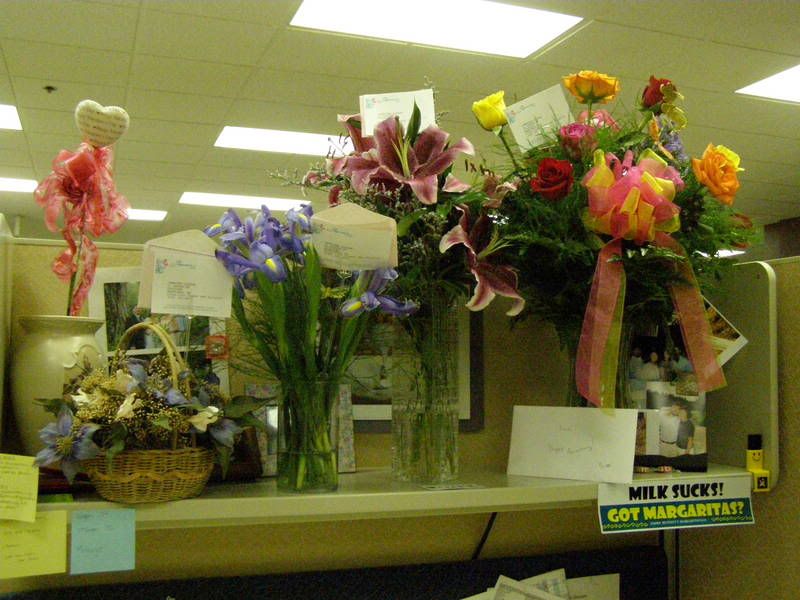 So my cubicle has been turning the office into a funeral home-esque atmosphere, but I have gotten SO MANY compliments!! Women - have your men read this blog...I got one of them good uns! I'm going to hang on to him!!