Not really - I just put that in there because I have managed to break two of my DPN's in the past few weeks! It made me feel like of Mice and Men when Lenny squeezes the mouse to hard and kills it...(Did I get the name right?)
I have 3 socks on the needles - two of which I broke the needles to and one I started on my trip this past week to Nebraska. I am using some Cashmerino I picked up in Newport, RI last year. They are going to be mine...all mine - just to wear around the house and make my feet happy. I have completely screwed up the pattern on this as the holes are not in the order they are suppose to be in. My flight was grounded in Chicago and I was knitting while watching people at the airport at 11:00 at night and realized...yeah - I'm not doing it right...oh well. I'm NOT tearing it out...I'll just get over it!!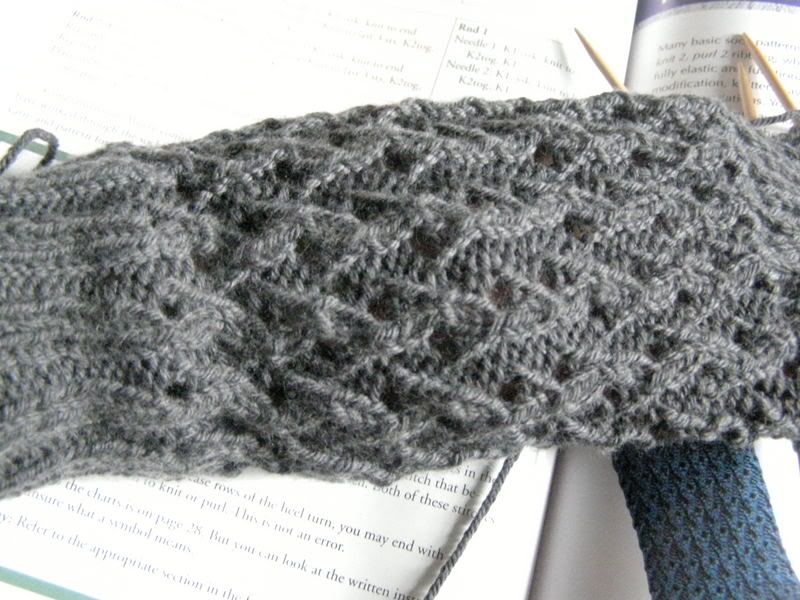 Patricia and I headed out to Dee's Nimble Needles and Yarn in Walpole, MA. Our LYS is on some crazy summer hours and is NEVER open and the selection of yarn there doesn't really excite me. So we ended up staying for quite a while at Dee's and met a sleuth of wonderful knitters! Designers and such that have their patterns published - so I volunteered to test out any patterns for the sake of yarn! I love this yarn store and Patricia and I will definitely head back next Friday, just to sit and knit with these wonderful ladies! I bought more DPN's to replace the needles I managed to break and ended up with a huge stash of yarn. At the end, I had to re-evaluate and put some stuff back. I bought yarn to start on Wendy's baby blanket. I'm going to use a pattern from Jennifer's baby book she let me borrow. It just so happened that Dee just got a new shipment (still in the box) of Claudia's Hand Painted Yarn - MY FAVORITE - and I was able to rummage through all the new colors...while trying to contain the drool. I managed to narrow it down to two skeins and left without breaking the bank!
Today Brad and I headed out to Boston to get some information on sailing. We were waiting for a ride out on a sail boat to see if we would really want to invest our money in classes...but ended up getting impatient and left. We are going to head to Newport next weekend to check out sailing classes there as they are much cheaper! On the way back home we spotted a pretty cool ship and stopped in to check it out. Turns out - It's the USS Constitution! Who knew? They give free tours aboard the still commissioned ship. The guided tour was awesome and well worth the wait! We will plan on going out to Castle Island in South Boston soon based on this tour!
So, I leave you with a picture of the lovely USS Constitution on a cloudy day in Boston!