I made it back to Boston airport around 9:00 on Friday evening and settled in Friday night for some much needed rest for a busy day on Saturday.

Saturday morning, we headed out to
Mandrake Tattoo
around noon for our appointment. Yes - we got inked. When we were in Ireland last year, my husband found this Celtic Love Cross that he fell in love with. We wanted to do something to remember our time here in MA before we moved away, so we decided to get a tattoo...not only a tattoo...matching tattoos in the same location. I hope that this doesn't doom us for divorce now!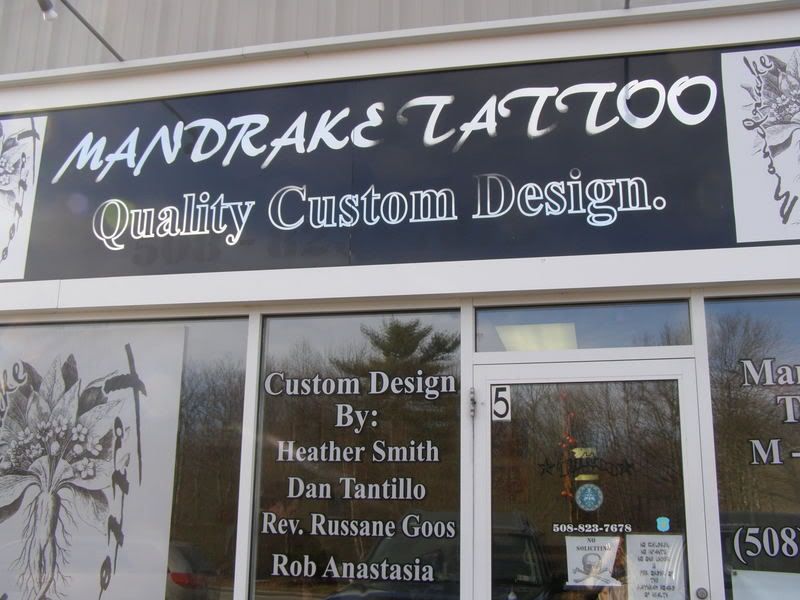 Brad went first and for some reason, I didn't think it was going to hurt as bad as they say...(this is my 3rd tattoo, but I got my last tattoo about 8 years ago)...and Brad seemed to get through it okay. It only took an hour for his to be finished and then it was my turn. It sucked...it hurt, it was painful, but I sucked it up until I left the shop and then whined like a little girl afterward. Two hours and $180 later, Brad and I left Mandrake Tattoo branded and happy. I think they turned out quite nice.
Brad: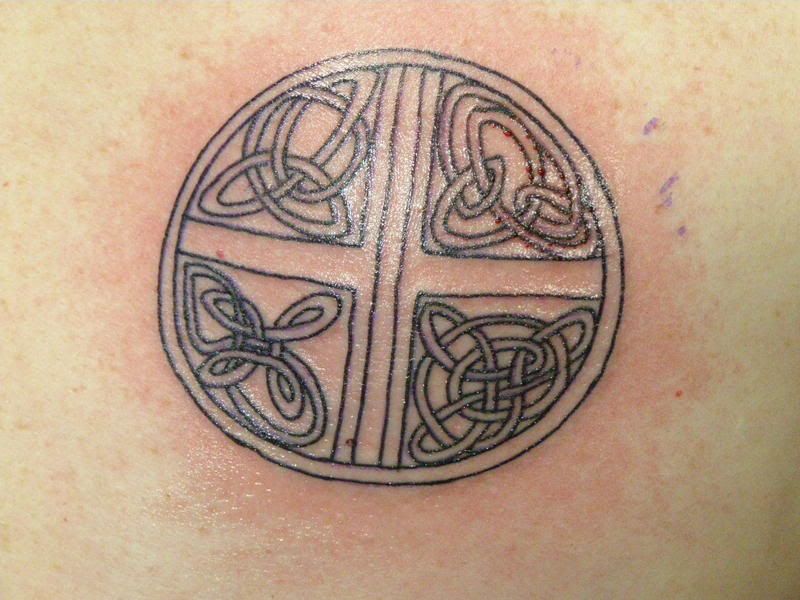 Jen: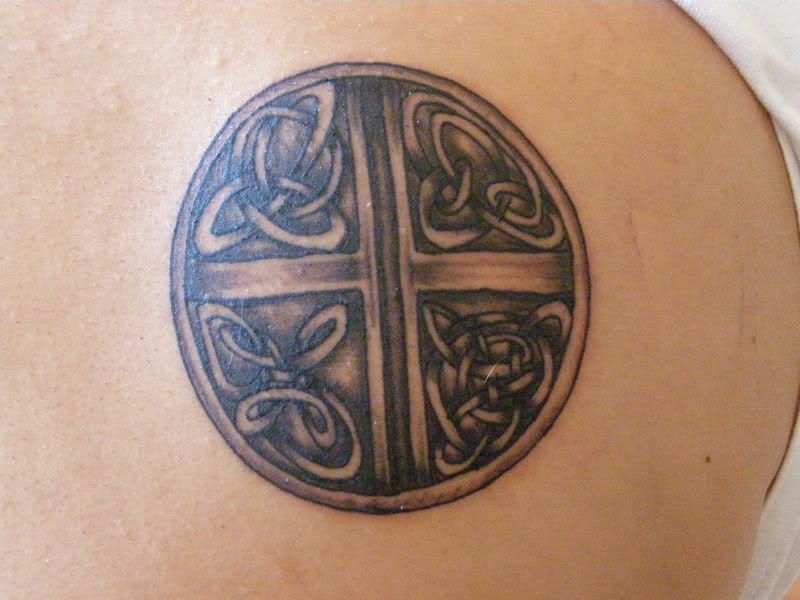 We headed home for about half an hour and then headed south to CT to visit some friends. Brad and I are officially moving to GA the first week of February and figured this would be our last chance to visit Jen and Patricia.
I was so excited to get to Jen's because I have not seen her daughter, Crazy Natters, in so long. She had grown so much. Crazy Natters is the first baby we've been around and have been able to watch grow up. Brad absolutely adores this child and she in turn, adores Brad. Most of the night she kept saying, Bwad...Bwad...and point to the garage where Brad and Kevin would occasionally hang out. It was too cute.
We then headed over to Patricia's house. Patricia just moved into her first new home after moving from her apartment in Mansfield and it was beautiful! We drank, smoked, ate pizza, played guitar hero and then headed back to Jen and Kevin's to "watch the game." I say that with quotes, b/c I don't actually remember watching the game...but more the group as we started talking about politics. Fun times!!!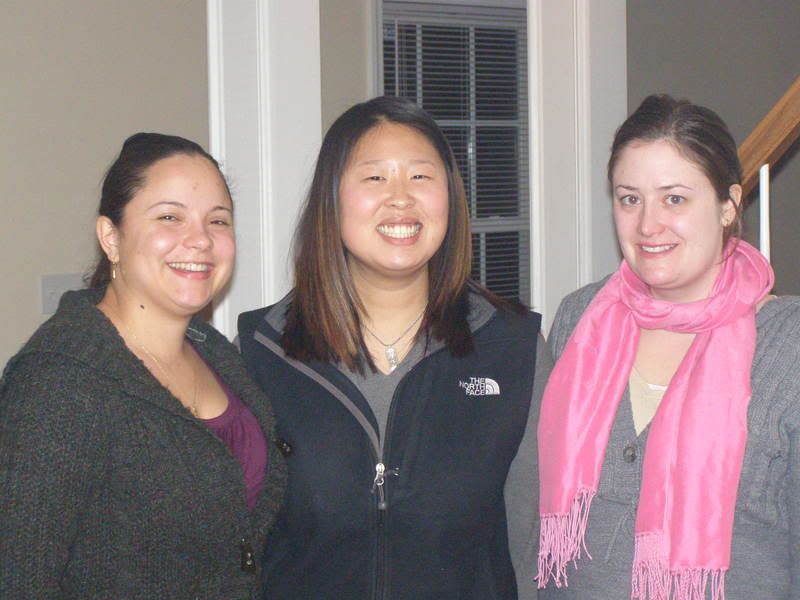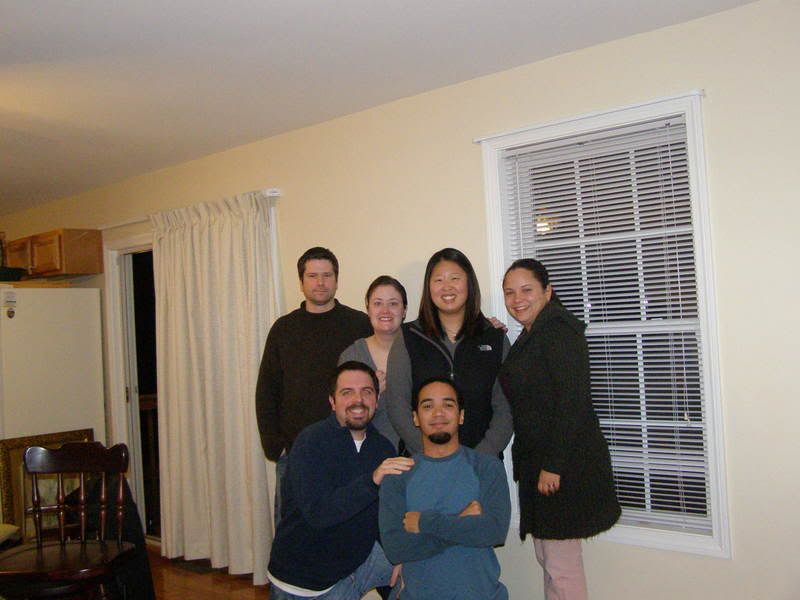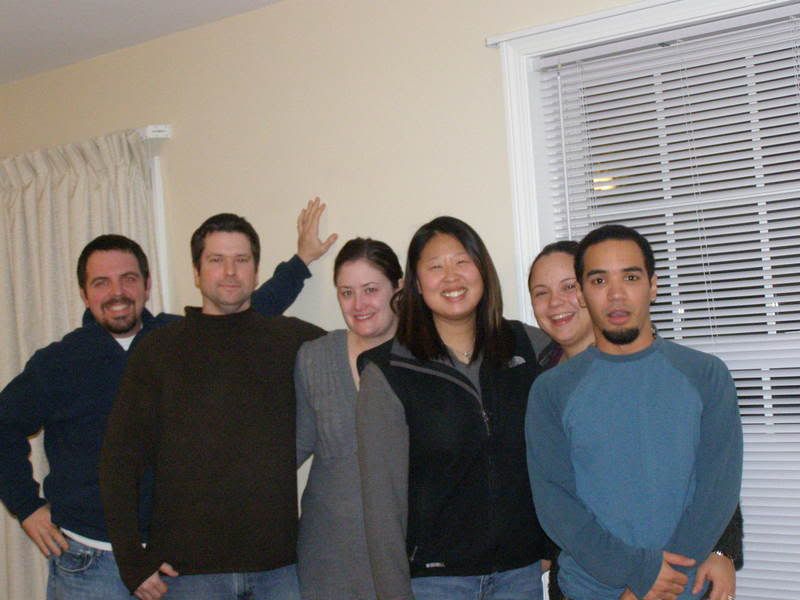 Please note my husband in the far left with his hand against the wall...he's practicing to be a JC Penney model...as Jen mentioned last night!!
We ended up leaving CT around midnight for a two hour drive home. It was a great weekend and I'm sad to see it go by so quickly. We do have another showing today at 4:00...the real estate business is finally picking back up and we've had a total of 3...yes 3...showings at our place since we put it on the market!!
I'll be working for 3 days out of the Mansfield office and then Brad and I will head down to GA on Wednesday night to do some househunting. Very exciting...
And...on January 28th...I bought tickets to see David Copperfield...I've wanted to see him since I was a little girl. Brad isn't going to be able to join me as the show is in Augusta and Brad won't move down until the first week of February, but this was one that I didn't think he would mind to miss....and it will be a much needed girl's night out with my new friends in Augusta!